Check-in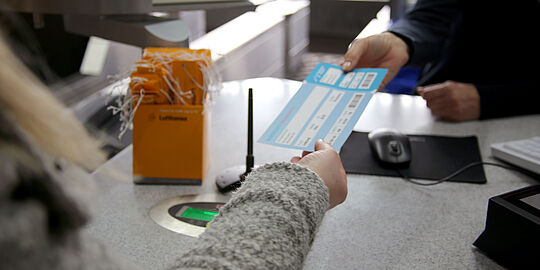 Please arrive at the airport in good time prior to your flight. Directions can be found here.
Please have your boarding pass and your ID or passport ready at check-in. You can find your gate and your seat written on your boarding pass. The airlines take your baggage and transport it to the aircraft. You will take your carry-on bag with you through the security check.
For a smooth start, please choose the check-in method which is most convenient for you.
You can look up your check-in desk here on this homepage up to three days before departure or you refer to the monitors inside the terminal buildings. The information on check-in consists of a letter (terminal building) and a number (desk number). For example: B212-215 stands for Terminal B, desks 212 to 215.
At the Self-Service Check-in
Unfortunately, no Airline offer this service at the moment.
Many airlines offer self-service check-in via their homepages so you can check-in conveniently at home or on the go. Check on the airline's website or with your travel agency whether or not your airline offers this service.
Night-before-check-in | baggage drop off
You arrive the evening before your flight, check-in (and drop off your baggage) relaxedly and can start off quickly the next day. This service is offered by some Airlines at Hannover Airport. Please check this Information in your travel documents.

For example: For all Flights with Flight.-No. LH, LX and OS this Service will be available 6:30 - 8:30 p.m. for all flights until next day 02:00 p.m.
Counter A114-119, departures, Terminal A.
For TUI fly flights, this service is offered from 6 - 8 p.m. for flights until next day.
For further information on the Night-before Check-in and Baggage-Service, please contact your airline directly.