Business Travelers & Frequent Flyers
From HAJ you can jet off totally smoothly to the economic hotspots of the world. Thanks to our comprehensive offers.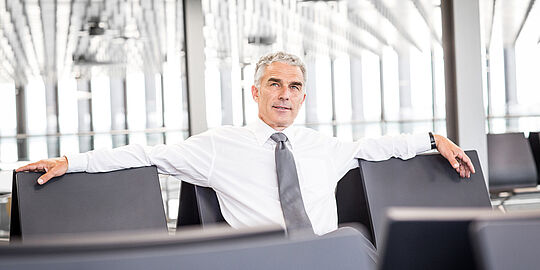 With our VIP & Comfort Services you can make your trip even smoother.
We take care of the travel formalities und your baggage for you - so you can use your time for the things that really matter. This is ideal for those who wish to travel even more smoothly.
Info Service
Always keep up to date: our newsletter will inform you on routes, services and up-to-date details on how to get to the airport.
Sign Up Now
Use your time for things that really matter. Our lounges offer you a quiet atmosphere where you can work or just relax. We also provide:
alcoholic drinks and non-alcoholic beverages
snacks
current newspapers and magazines
daily newspapers
WiFi
The Karl Jatho Lounge (of BFM Mobility&Services GmbH & Co. KG), which is located within the airside area of Terminal A (Gate 6).
Star Alliance's business travelers can use the Business und Senator Lounge (of Lufthansa) which is situated within the airside area of Terminal A (Gate 6, upstairs).
Melli Beese Lounge (of BFM Mobility&Services GmbH & Co. KG) which is situated within the airside area of Terminal C (Gate 19). Melli-Beese-Lounge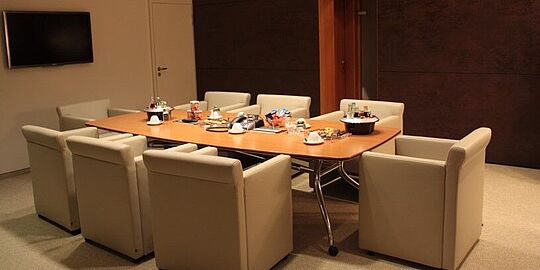 Meeting and conference venues at the airport
We provide a suitable location for every kind of meetings or conferences. Your guests will benefit from short distances as they can reach the conference venues within a short walk from their arrival gates.
Book the exclusive Takeoff Meeting Room in Terminal A. If requested, our friendly service team will wait on you.
The ideal conference and meeting venue of every size is the Mövenpick Meet & Dine – Conference Center - including professional catering.
Would you like your meeting to reach the stars? Skylight – the company restaurant at Hannover Airport welcomes you on the fifth floor between Terminal A and B.
A direct view at the apron and the outstanding cuisine provide for the perfect frame of your meeting.
The event restaurant Gate 66 has a large range of culinary specialities. The exhibition 'Welt der Luftfahrt' provides entertainment and distraction. You can also book two true-to-original flight simulators optionally.
Are you planning a large event? We would be happy to realize it for you - for instance at an aircraft hangar.


Gisela Thiemann

Head of Advertising Spaces/ Events
Parking for Business Travelers
Season tickets for Frequent Flyers and Companies (e.g. 3 months for €450)
We offer season tickets with an expiry date of up to 12 months.
Advantages for you:
full cost control thanks to a lump sum payment
high flexibility: the tickets are transferable within the company
access to all parking garages with only one ticket
no need to check out at the payment machines
Exclusive Parking Area at P1
At the parking garage P1, we offer a separate area of exclusive parking lots, including Valet Service for Lufthansa passengers. Valet Service is also included in our VIP packages.
Advantages for you:
extra large parking lots
CCTV and a special locked area
short distances to the Terminals A and B.
high flexibility - usable without booking or contractual conditions.
Terminal Parking
Park in the immediate vicinity of your departure terminal - in the opposite parking garages.
Advantages for you:
you can park in the immediate vicinity of the terminal buildings using P1, P2 and P3
short and convenient distances to the terminal buildings
The four-star Leonardo Hotel Hannover Airport and the four-star Maritim Airport Hotel are pleased to welcome you directly at the airport.
Both hotels offer attractive Park, Sleep & Fly options for business travelers: you can arrive on the day before your flight, park your car at the hotel for the duration of your trip and use the Evening-Before Check-In. In the next morning, after breakfast, you can conveniently walk to the terminal buildings or you can use the free-of-charge shuttle service. So you can kick off your working day considerably more smoothly and you will have time for preparations the evening before.


Leonardo-HoteL WEBSITE Maritim Airport HoteL WEBSITE