Flying with Children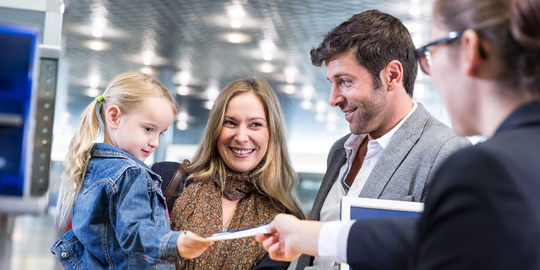 Flying with children is an adventure that you can embrace. We will inform you on everything you need to know about it.
Here are some tips for you how to pack your children's suitcase properly. So you will not miss important things for the best time of the year.
The following items are allowed in the carry-on bag:
travel documents
a travel pharmacy for children
the favourite toy
a blanket
pacifiers and feeding bottles
diapers and changing rompers/pants
toys and drawing utensils
snacks (if you are carrying baby food, please present it to the security officer at the check point)
What else is allowed in carry-on baggage?
Terms of Business VIP-Service
The Evening-Before Check-In is offered by some Airlines. Please ask your Airline for further information to this Service at the Hannover Airport.
Let's get the adventure started: most airlines provide their own care service for children who are traveling alone. Thus children from the age of 5 can fly without their parents.
Uninterrupted attendance
Your children are in good hands during the flight. The cabin crew will take them to their seat and attend to them throughout the flight. After landing, your children will be accompanied until met by the collecting person.

Attendance and Entertainment
Time will fly by: the airline staff will distract your child with playing areas, little guided tours and explanations on aviation. Some airlines give access to their lounges.

Contact your airline in good time ahead
Please contact your airline or travel agent for further information in good time prior to the flight.

Entertainment at Hannover Airport
Enjoy your family time at Hannover Airport. It's not waiting time - it's fun time. Get a glimpse behind the scenes and join us on an Airport Tour or visit the Exhibition Welt der Luftfahrt. For your entertainment before boarding, check out a great number of short movies about the airport via AirportTV on Youtube.
You are allowed to take feeding bottles and baby food on board with you. Please refer to the rules on carry-on baggage regarding liquids, too.

FURTHER INFORMATION ON RULES FOR BAGGAGE
Advice: At Hannover Airport, you can have your baby food heated up at Marché and Moevenpick.
Children need to get refreshed, too. To do so, diaper-changing rooms are available in all terminal buildings. Simply follow the signposted way.
Diaper-changing rooms in the landside terminal:
Terminal A / arrival (2x)
Airport Plaza / departure
Terminal B / opposite AHS
Terminal B / arrival
Terminal C / arrival (2x)
Terminal C / departure (2x)
Diaper-changing rooms in the airside terminal (accessible for passengers only):
Terminal A opposite of Gate 03 and next to Gate 01
Terminal B opposite Gate 12 and opposite Gate 07
Terminal C opposite Gate 13, oppositer Gate 20 and at Gate 18
Folding buggys for children
Strollers are bulky baggage and need to be checked in at the bulky baggage desk. We will be happy to lend you a folding buggy free of charge. Please return the buggy before entering the plane. Deposit: €1
Buggys can be found on the Departures level of each terminal building.

Airport Service Center

Opening hours: 7 days / 24h
Arrival level Terminal B
Lost & found | Tax-Free