Handling & Operations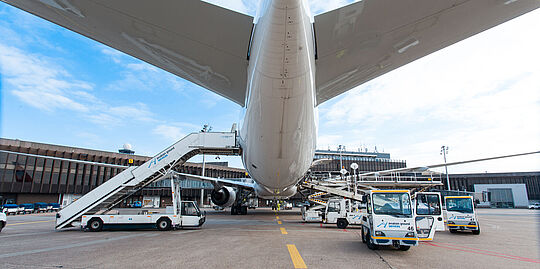 If you are planning to make us one of your desintations, please submit your individual handling request here.
Peter Alpers

Leiter Entgelte und Vertragsmanagement
The Safety Management Systems (SMS) serve to ensure safety within the airside areas of Hannover Airport. The prevention of accidents, the protection of people and property are our highest priority.
Our Safety Management Systems tools offer our partners and clients the opportunity to:
access up-to-date safety information,
submit safety messages directly.
Click here for the SMS Tool of Hannover Airport
For the assignment of a user name and password, please contact: safety@hannover-airport.de.

Christopher Selle

Leiter Sicherheits-/ Managementsystem
The winter service at Hannover Airport is thoroughly orchestrated. Important information on quick and frictionless aircraft de-icing can be obtained from the Aircraft De-Icing Plan.
Departments & Authorities


Parkservice

Ankunftsebene Terminal B (im Airport Service Center)
Öffnungszeiten: 7 Tage / 24 Std.