Information & Overview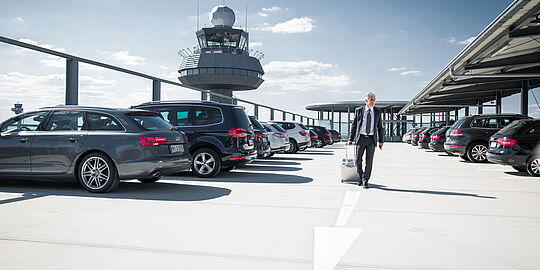 Finding the right parking lot
Parking garages are located in the immediate vicinity of all terminal buildings. This makes it easy for you to find the right lot for your car.
You can also book online

Arriving smoothly
The way to Hannover Airport is clearly signposted. At the airport, a clear parking guidance system will help you find your parking area. You wish to park near the terminal building? Choose the parking garages P1 through P6.

Please note: you can make cashless payments ath the parking garages pay stations only. Cash payments are possible at the pay mashine at the Airport Service Center, arrival level in Terminal B.
Parking reservations are possible until May 31st, 2024 at present. Later Bookings are available from December 2023. Parking lot P10 is open until November 13th, 2023 (with Onlinereservation) and will be reopen on June 24th in 2024.
Please click on the corresponding symbol on the map for further information about the parking garage such as limited passage heights, walking distance, etc.
long-term parking rates as of Sept. 29th, 2023
Book your parking lot online
FAQs Online booking for parking lots
Yes, the reservation is binding. You may choose any vacant lot within the parking garage.
You can cancel your reservation for free online up to 12 hours before the booked date. Cancellation by e-mail, fax or mail is not possible.
If you fail to meet the cancellation deadline and/or do not make use of your reservation, you are not entitled to a refund of parking fees
In this case, we will charge a €15 service fee.
Unfortunately, you have to. A reimbursement for early exits is not possible.
No, you only need to enter your ticket in the pay machine upon your return and pay the due amount with your EC/credit card.
In this case, please contact our staff using the call button or visiting the Airport Service Center.
This is no problem. Simply contact our staff using the call point at the entrance.
No. For technical reasons, we ask you to still use your exit ticket.
Parking service & Airport Service Center
We are there to help
Our parking service is located in the Airport Service Center on the Arrivals level in Terminal B and is open 24/7 to help you with your queries and requests. You can also contact Parking Service staff directly using the call points at the entrances and exits and at all pay machines. Alternatively, you can contact the Parking Service at any time by calling +49(0)511 977-0.
Terms and conditions of use for parking areas
Pay machines & Means of payment
You can pay your parking fee at the pay machines or in the Airport Service Center (Arrivals level, Terminal B). The pay machines accept cashless payments only: EC and credit cards (American Express, Diners Club, Mastercard, VISA).
Cash payments are possible at the pay machine at the Airport Service Center arrival Hall B.
Luggage trolleys can be found at all parking garage entrances and exits, near pay machines as well as in front of all the terminal buildings. Deposit: €1.

Parkservice at Airport Service Center

Arrival Terminal B (at Airport Service Center)
Opening hours: 7 days/ 24h